French Chateau Holiday Specialists
Gourmet Breaks in France
All of our holidays are individually tailored to your specific requirements, and each one is therefore unique.
The following is an example of the type of itinerary we offer:
Luxury Gourmet Breaks France
Thursday 23 May 2019 – Departure Central London to Poitiers on Eurostar / TGV standard class return.
Private luxury coach transfer (about one hour south of Poitiers) to a splendid 16th Century Chateau in Charente South West France and fully refurbished in 2016.
Champagne & French Caviar canapés on arrival
Check-in to individual guest room – free time relaxation until dinner. (walk in the grounds or dip to the heated pool)
Aperitif followed by three course French gourmet dinner freshly prepared by two qualified Chef on premises including wine
Friday 24 May: Private transfer / Full day in Cognac – visit / lunch and tasting. three visits including 2 famous Cognac brands such as Hennessy and Rémy Martin plus a winegrower/distiller visit and a tour in the vineyard)
Lunch locally beverages included (1 local aperitif, 2 glasses of wine and coffee) accompanied by a local Cognac expert guide.
Return to Chateau – aperitif followed by a variety of French canapés then three course gourmet Dinner including wine
Saturday 25 May morning: Initiation to French cooking class with the duty Chef - 09:30 to 11:00 am following by 11:00 to 12:00 wine expert course with a qualified Bordeaux Sommelier.
Lunch - free afternoon relaxing by the pool or visit to Poitiers.
Afternoon tea and snacks available for guests staying at the Chateau. (board and card games available)
Saturday afternoon: private transfer / departure 13:30 - Free afternoon in Poitiers city centre – departure 18:00 back to the Chateau
Saturday evening: Aperitif followed by a variety of French Canapés then three course dinner including wine
Sunday 26 May: Full day / Visit of St Emilion village (Near Bordeaux classified as UNESCO world heritage site) Vineyard visit & tasting & lunch at Chateau de Ferrand (Grand Cru classé)
Second afternoon vineyard visit & tasting at Chateau La Riviere (Grand Cru de Bordeaux)
Return to Chateau - Aperitif followed by canapés then three course dinner including wine
Monday 27 May: Full day at the Futuroscope Leisure Park Poitiers (Theme park based upon multimedia cinematographic futuroscope and audio-visual techniques. It has several 3D cinemas and a few 4D cinemas along with other attractions and shows)
Monday evening: aperitif / canapés then farewell three course dinner including wine
Tuesday 28 May: Transfer to Poitiers station for journey back to London (alternative mode of transport such as flights offered).
The above itinerary was based on 60 guests sharing on average a double room or twin room, the cost covering those dates inclusive of all excursions, breakfast, meals (dinners and lunches where specified), transfers, flights, cooking lessons, Sommelier visits, in-house staff is £1,284.00 per person.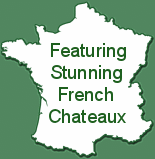 French Flair Ltd.
Kemp House
160 City Road
London
EC1V 2NX