French Chateau Holiday Specialists
French Chateau Christmas
THIS IS AN EXCLUSIVE UNIQUE LIMITED TIME OPPORTUNITY
Please Note: Due to the unique nature of this offer, these Chateaux will be fully booked very quickly, therefore please phone (0208 166 5961) or email (christine@frenchchateauholidays.co.uk) immediately to register your interest in a French Chateau for Christmas, and for full details and a quote.
Enjoy an enchanted French Chateau at Christmas: We currently have beautiful chateaux in the Burgundy, Normandy, Provence and South West regions (Charente, Dordogne and Midi–Pyrenees) available for Christmas week (usually Saturday to Saturday) or for a short break (e.g. 24th-27th) with accommodation varying from 20 up to a maximum of 80 guests.
Our Chateau Rental Collection is as Extensive as it is Exclusive, please View a few of our Unique Stately Abodes >>
Rich in Medieval history with stunning architecture, vaulted rooms restored with great care and love, tastefully decorated and equally warmly inviting with large wood fire crackling away while roasting chestnuts.
Our exclusive selection of properties and services will make your Christmas enchanted, unforgettable with fond memories to cherish for years to come.
Please Note: Chateaux shown in the pictures on this page are for illustration only, and may not be available for rental.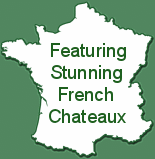 French Flair Ltd.
Kemp House
160 City Road
London
EC1V 2NX