French Chateau Holiday Specialists
Contact French Chateau Holidays
Please do not hesitate to contact French Flair for further information on our luxury holidays, bespoke holidays, gourmet breaks, Chateau at Christmas or singles Christmas break, for your holiday of a lifetime.
Telephone: 0208 166 5961
Email: christine@frenchchateauholidays.co.uk
Address: French Flair Ltd. Registered Office: Kemp House, 160 City Road, London, EC1V 2NX
Director: C Bertenand, Company Registration No: 10736195, Registered at Companies House. VAT No: 291416502
Or if you prefer, please complete our Enquiry Form below with your details:
Please Note: Chateaux shown in the pictures on this page are for illustration only, and may not be available for rental.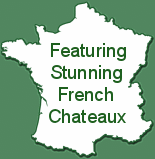 French Flair Ltd.
Kemp House
160 City Road
London
EC1V 2NX