French Chateau Holiday Specialists
Luxury French Chateau Holidays
READY FOR DECADENT EXTRAVAGANCE - NOT FOUND WHAT YOU'RE LOOKING FOR YET?

Through Our Portfolio Network, We Have Last Minute Chateau Rental Availability Released to us, whether for Weekly / Short Breaks / Off Peak / Humble Abode / Stately Hall / Self Catering or Pampered (Over) Indulgence.

PLEASE GET IN TOUCH WE CAN HELP!
Our luxury holidays in France are guaranteed to give you a unique, unforgettable experience.
Dream the dream, a French chateau holiday rental is a unique extravagant experience of living in stately historical surroundings, meet the unusually quiet Aristocratic custodians portrayed on walls, and in its chapel, discover the rich tapestry of chateau life.
Enjoy the exclusive benefits of a chateau, its garden, its privacy, its larger than life living space, its onsite leisure activities, its *vineyard domain, chill out under an olive grove or jog in the park! Wellbeing, pampering, enjoying quality times with loved ones at its best is what we accomplish with flair, discretion and professionalism. (*when applicable).
Availability is limited, and due to their enormous popularity, these fabulous properties get booked very quickly, so we advise you to phone (0208 166 5961) or email (christine@frenchchateauholidays.co.uk) NOW for current availability.
Depending on the desired region in France, each Chateau is unique in its rich history, architecture and will offer different features, *facilities on site and amount of guests it can accommodate, prices therefore vary enormously but can be much cheaper than you might imagine.
Our Chateau Rental Collection is as Extensive as it is Exclusive, please View a few of our Unique Stately Abodes >>
Note*: 'facilities' can include: pool, lake, landscape gardens, private chapel and parkland, cycling, total privacy or walking distance to a village for basic amenities etc.
Alternative activities for a healthy and active lifestyle such as yoga/Pilates class, jogging, aqua aerobic exercises (pool, sea or lake), cycling can be offered subject to availability and destination.
From a Chateau (sleeps up to 30 guests) set high above a beautiful bay offering spectacular ocean views to a very exquisite unique 13th Century village renovated with great care and taste in the South West, perched on a hill showing beneath its walls stunning views of the countryside with its own church, private gardens, pool, tennis court boasting fourteen stunning houses in total privacy, accommodating up to 80 guests.
The world is truly your oyster... A gem in its own right so much so that you may never wish to leave this little tranquil corner of paradise! One of a kind and a Must to discover....
Why book with us?
Deal with THE Chateau experts, unlike most other travel companies, this is all we do, we book ONLY French Chateaux, this is our sole expertise.
We specialise in Chateaux all year round, groups, add-on services (coordinate local sightseeing visits and so much more) whether it's for a summer holiday, a special family gathering reunion or Christmas celebration.
Travel expertise: Two decades experience in travel including Business Travel, group booking and luxury holidays, so I'm confident we know what travel is all about!
We're an honest and genuine company, we cross the t's and dot the i's with a fine tooth comb to make sure there are no surprises on arrival at your destination. What you book is what you get!
We advise on general travel - if we don't have the answer, we will point you in the right direction but rest assured more often than not we do have the answer!
Our bilingual customer service team is available out of hours for assistance on both sides of the channel if required.
For all types of budget! We have a comprehensive selection of chateaux in France, small, large, quirky, medieval, fairy tale towers subject to your group size and location so there will always be one to match your specification.
Our *groceries vouchers redeemable for the value of €300.00 (local supermarkets) will help towards basic weekly necessities and a few extra luxury goodies.. All on us! (* for group bookings of 20+).
To discuss your requirements, and for further details of our luxury chateau holidays in France - please contact us.
Please Note: Chateaux shown in the pictures on this page are for illustration only, and may not be available for rental.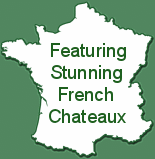 French Flair Ltd.
Kemp House
160 City Road
London
EC1V 2NX